Horizon Oxford Rower Review
 Due to problems experienced we have discontinued the supply of the Horizon Oxford Rower
(See Review Below).
Our rower of choice for both quality and value is the
WaterRower
which has the reputation of being the best home and commercial rowing machine alongside the Concept II

Get Link

Add to Favourites

Contact us about this item

Request a callback about this item

Email a friend about this item
This product is currently unavailable to order.

The Horizon Oxford II Home use rowing machine.

If space is tight the Horizon Oxford Air Rower has a folding frame.

While fairly limited on exercise feedback, the information afforded by the Horizon Oxford II display is enough for a workout.

Easy access footplates cater for most foot sizes and are very quick to slip into and adjust.
Large seat provides just the right amount of padding to accomodate all sizes of Gluteus Maximus.

The same seat and Aluminium rail is used on the Horizon Oxford 4 rower. You can see the same wear even on publicity photos as used here.
The Horizon Oxford II Home use rowing machine.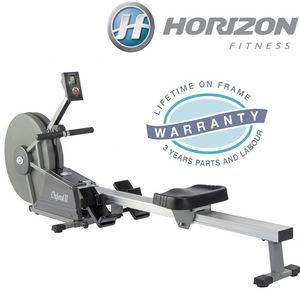 Horizon Oxford Rower Review:

2012 update: Although this original review was of the Horizon Oxford II I have closely inspected the latest incarnation known as the Oxford IV (Horizon Oxford 4 rower ) and the changes are mainly cosmetic. The same aluminium seat rail and plastic seat rollers are used and even marketing images show the same Aluminium "pick-up" on the rollers (see last thumbnail) In my professional opinion the main problems highlighted in the following videos have not been addressed, as such the original review can be carried forward to the latest version of the rower where the same components and design is used. If you really are tight budget then I would strongly suggest a look at the WaterRower A1 for £100 more which has a more realistic and believable Max. User weight of 125Kg (275 lb) but if you are serious about spending this much on a rower then without any shadow of a doubt I would say save your money a bit longer and put it towards the "full commercial" WaterRower Natural or Club.
What do we think of the Horizon Oxford II Rower ? Well, for starters, it comes in at the same build and component quality as you'd expect from Horizon Fitness Home Fitness Equipment that is to say it is very specifically aimed at the home gym user.
We have the Horizon Oxford Rower next to the WaterRower and the First Degree Fitness Fluid Rower in store which offers a good comparison for different styles and quality of rower. Obviously in the hard cash stakes the Horizon Oxford is the cheapest of the bunch and for that reason it has it's own corner of the market, but there is certainly more to a purchase than the cheapest price so read on for more details.
The Horizon Oxford II Rower also has a semi-folding design which makes it more desirable in a restricted space than say a concept 2. Whereas the WaterRower literally just stands on it's end the Horizon Oxford rower has a hinge in the middle which requires a locking pin to be unscrewed to allow the rower to be "folded" or the main rail to point upwards instead of horizontally so it still takes up around twice the floor space of the WaterRower.
Staying on the "folding" design of the Horizon Oxford II Rower this is an area that has cause for much concern. Being a shop demonstrator we typically leave the rower "folded" until a customer wants to try it, but BEWARE if the locking pin isn't re-located and screwed in and you sit on the Oxford Rower the whole of the front assembly is catapulted towards the shocked user. Having made this mistake ourselves it's something that needs pointing out.
Another problem with the folding mechanism is there are sensor wires that have to pass through this hinged area and it's very easy for these to become damaged by the folding action as indeed ours have, so all in all it's perhaps best to not think of the Horizon Oxford II as a folding rower at all.
Most store demonstration exercise machines actually get very little use through their life; customers may get on for a few minutes to get the feel of the action and then get off. With this usage pattern one would expect a machine to be in great shape for a long time, ours however hasn't fared well. The seat slides up and down the centre rail in a far from smooth action, (See Video 3 below) and even from new, as soon as you put any effort into the stroke the centre rail flexes and the whole of the front fan unit lifts off the floor and drops back again on the return stroke. (See next Video)
The fan it's self has a loud woooosssshhhhhhhhh sound as do all air rowers although there is benefit in that it creates a significant amount of air movement in the room which assists in cooling the user on really hot days. There is also no resistance adjustment which unlike the WaterRower which dissipates energy extremely rapidly means even if you up your stroke rate significantly on the Oxford II there is very little increase in resistance.
Horizon Oxford Rower review verdict:
To summarize then, if you are on a very tight budget and absolutely must have a rowing machine then the Horizon Oxford II is the very minimum specification rowing machine to go for; however if you plan on using it regularly you will rapidly be yearning for greater workout feedback and something that responds to and is able to cope with a more advanced level of strength and fitness.
In my opinion the flexing of the main rail significantly limits the maximum user weight and I personally would suggest 14 to 15 stone is the maximum user limit (Myself being 15 stone or 210 lb in the above videos) , significantly less than the claimed 350lb but even at that weight you'll see the fan assembly bouncing up and down on the floor with every stroke.
Best advice - TRY BEFORE YOU BUY; don't buy rowing machines or any other home fitness equipment blindly and be wary of "sales people" who's only interest is meeting their sales targets for the month. Hopefully the above information gives you an idea of what to look out for, and as most people buy over the internet rather than visiting stores like ours they don't get to find the whole story. I'd rather spend twice the price of a cheap air rower and get a WaterRower (which has a full commercial warranty) or indeed, pick up a really cheap 2nd hand exercise bike etc and keep saving. Check out the resale value of a WaterRower compared to ANY other fitness equipment and you will be shocked by how well they hold their price.
In the meantime, we will be keeping our Horizon Oxford II rower in store for anyone that wants to see the problems we've encountered first hand.
I have added the above videos to back-up my written review as I was being accused of making things up and "talking sht" which clearly the videos prove is something I NEVER do for any reviews on this site. If you feel "pushed" into purchasing a product you didn't intend to buy then walk away and do more independant research. It will still be there tomorrow.
An up-sell isn't always about a retailer trying to prise more money out of you, it can be a way of ensuring you don't wast your money on equipment that really isn't suitable for your own particular requirement.
By Pete Walker
Horizon Oxford II Rower Console information displayed:

Calories, Distance,Heart Rate, Time,Counter & Strokes per minute
Horizon Oxford II rower specification:
34kg product weight
Box dimensions: Box 1 - 46cm x 29 x 23 Box 2 - 62cm x 11.5 x 6
Tension Control - Air Resistance
Folds to save space!
Frame - Steel, Aluminium Seat Rail
Console - 1 Window LCD, feedback - Time, Strokes, Distance, Calories, Tempo, Counter
Monitor - Requires 2 X AA batteries (included)
Pedals - XL with Strap
Wide Seat
User Weight Limit - 350lbs (Manufactures quoted capacity)
Dimensions (cm) Open - 102H x 50W x 250L
Folded - 165H x 50W x 112L
Horizon Oxford II Rower review
All contents of this page are Copyright of

GymRatZ

Commercial Gym Equipment & Bodybuilding-Supplements 1999-2020
| | | | |
| --- | --- | --- | --- |
| The WaterRower Natural (Ash wood) review - All WaterRowers provide the unique self-regulating water resistance which has to be experienced to be appreciated. Buy from us and receive a genuine WaterRower P.C. Connector cable, WaterRower HeartRate Receiver Box and Polar Chest Strap COMPLETELY FREE! | | | |