Inferno 2 Fat Burner Trade
Loyalty Points 34 / £0.34

Get Link

Add to Favourites

Contact us about this item

Request a callback about this item

Email a friend about this item

NEW - Retailer friendly Inferno 2 the new replacement for Inferno Fat Burner and proving just as popular as ever.

Inferno 2 potent slimming formula ingredients.
(If not used to strong stimulants try Sida Cordifolia or Pyro-MX Leanburn
NEW - Retailer friendly Inferno 2 the new replacement for Inferno Fat Burner and proving just as popular as ever.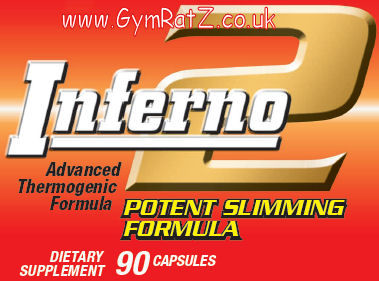 Extra 34 points when your order this item!
Inferno 2 Fat Burner Trade

Buy Inferno 2 (90 Capsules) at genuine trade price from our wholesale store. No account required. If you only want to place a small order (Less than £150) you can add this item and let the checkout change it over later on.
GymRatZ Inferno-2 Review:
After the legendary Inferno fat burner which was a monster we didn't think anything could come as close to the original formula but then came Inferno 2 - Produced with Bitter Orange Peel extract (Synephrine) to replace the Ma-Huang it is a little more subtle than the Original Inferno but still packs a punch for the unwary. I've been using a pot of Inferno2 and alternating it with Biotest Hot-Rox Extreme either which makes for a great variation either on a daily or weekly basis.
If you are of smaller build or slighter stature you may be better off with a product like Reflex Sida Cordifolia which can be taken in smaller doses as the capsules are smaller i.e. multi-capsules per serving, or even Sci-MX Pyro-MX Leanburn which Matt has been using in preparation for his bodybuilding competition by taking a single capsule every few hours rather than 3 or 4 capsules 3 times a day.
Here's the bit I wrote for our old site:
At long last, we have a replacement to the brilliant and now legendary Inferno fat burner. (Add upgrade option to try the original)

Inferno 2 - has big doses of some potent ingredients. So far feedback from hardened Inferno customers has been very positive. Due to the potent Bitter Orange Peel extract this New Inferno 2 should not be used by drugs tested athletes
Inferno 2 is the next generation of Fat Burner synergistically combining potent stimulants, well known appetite suppressants and proven fat burning ingredients to hit slimming from all angles. Inferno 2 contains the strongest Bitter Orange Peel (Citrus Aurantium) available ensuring that every serving contains the optimum level of Synephrine for boosting your metabolism and starting the fat burning process. The synergistic components of Inferno 2 are individually, clinically proven, to reduce water retention, balance appetite, balance and regulate blood sugar levels, increase energy and burn excess body fat in a safe and natural way. Used just twice per day (1cap with breakfast, 1cap with lunch) Inferno 2 will wreak havoc within your body fat stores and help you to achieve the body that you want and deserve. *Due to high content of synephrine containing compounds this product is not suitable for tested athletes.
Recommended Inferno 2 use + FREE Diet tips that are 100% effective for rapid fat loss !!
Take 1 Inferno capsules with twice a day.
FREE FAT LOSS TIPS

:
No matter what dietary supplement you are taking, NOTHING will work if you don't put right the things that made you gain weight in the first place. That is to say, DON'T buy crisps, biscuits, sweets etc etc. Switch to a diet rich in fresh fruit and vegetables, eat foods high in fibre and low in fat and sugar. Drink WATER and lots of it as it will help reduce hunger and help flush out toxins and the crap from your previous rubbish eating plan.
Eat high protein, low fat, low carbohydrate meals, don't skip meals. Food is a fuel to enable your body to function effectively and efficiently it is NOT a luxury nor is it something to make you feel good. The BEST diet to make you "FEEL GREAT" is as outlined above. Sugars and fats will leave you feeling lethargic and irritable (and FAT). Alcohol = pointless calories. Drink a glass of red wine NOT A BOTTLE !! and restrict this to just one night a week (the same one each week) as a special treat rather than a compulsory addiction !
EXERCISE!! the more you can build up to the greater the high you will get as natural endorphins are released and the easier your goals will become. Exercise means getting tired, getting sweaty and feeling worn out. If you don't it won't count and was a waste of your time !! MAKE EVERY SECOND COUNT. 30 minutes 3 times a week is a starting point not a goal. Try and schedule 40 minutes every day and make that schedule as important as brushing your teeth etc.
Oh, and sign up to our mailing list (bottom of the page) for more guaranteed No B.S. tips not sales hype. You might not want to hear the truth, but it's there and it's VERY simple. Make a change today, a change that will have a very significant effect on your health and happiness, and those around you.
Cheers - Pete (I don't do subtle so SORT IT OUT TODAY while you still have the health to be able to do something about it)
Full Inferno 2 Ingredients: (per single capsule serving)

Bitter Orange Peel 325mg
L-Tyrosine 300mg
Caffeine 153mg
Green Tea Extract 100mg
Guarana seed powder 12mg
Bioprene 5mg
D-Biotin 180µg
Chromium Polypeptide 100µg
Inferno 2 Fat Burner sold 90 capsules per pot. (4 to 6 weeks supply)
Copyright of

GymRatZ

Commercial Gym Equipment Fitness & Bodybuilding-Supplements 1999-2020