LK6000 Treadmill (Light Commercial)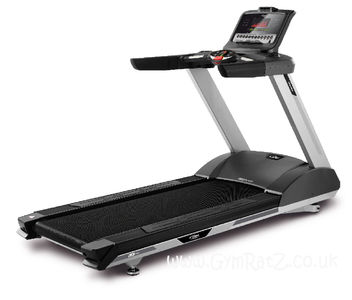 This item is also available in the following categories:
Extra 8328 points when your order this item!
BH Fitness LK6000 Treadmill
NEW for 2011 the LK6000 Treadmill from BH Fitness Equipment represents up to the minute design, styling and the legendary quality engineering that makes all BH Fitness Equipment and products stand out from the low-grade Chinese produced items that have flooded the fitness market in recent years. (including one-time prestigious brands ... )
Our thoughts of the LK6000

All the BH Fitness LK range of fitness equipment is designed and engineered for Light Commercial Gym use e.g. Corporate gyms, Resident Hotel Gyms, "Non-Commercial" School Gym and training facilities etc. BH Fitness LK models reflect genuinely very high quality fitness equipment made from the very best components NOT made in China. If you want your Light Commercial Fitness Equipment to survive with minimum maintenance and maximum life-span there really is very little to compare with the LK range and the LK6000 is the treadmill of choice.
A step up the ladder from the BH Fitness LK5900 the LK6000 now features a 4.0 HP continuous duty motor giving an additional 25% more power for a much smoother operation and even longer maintenance and trouble free operation. Fresh console design giving a great look and feel for the user with plenty of programs and fitness tests to cover everyone's needs.
The running deck is also lower than most equivalent light commercial treadmills on the market; giving easier access to the treadmill for the older of less able user. All in all then a great new package with features and engineering that will provide your light commercial / office gym with budget friendly treadmill that will bring a smile to all that use it.
NOTE: Priced including FREE DELIVERY + Cashback Loyalty points which can be used against ALL products on the web site for genuine money off. (See Loyalty Points Details)
Designed for light commercial gym and club use

Made for Intensive use (covered by 2 year Light Commercial Warranty)
4 HP(continuous) AC Motor

Provides a quiet yet powerful speed between 0.8~22Km/h.
Maximum user weight = 150Kg (330 lb)
Green-Power Technology for maximum efficiency
Dot-Matrix Monitor with 4 display windows Manual and 8 pre-set profiles

Challenging programs to help you meet your fitness goals
Heart Rate Control Program

Challenging programs to help you meet your fitness goals
MP3 Connectivity with built-in speakers
Chrome plated rollers for intensive use
LK6000 Treadmill Dimensions: (204cm) 80"L x (84cm) 33"W x (160cm) 63"H unit weight 276 lbs (125 kg)
BH Fitness LK6000 Running belt XXL: 152cm/60" x 55cm/22"
WARRANTY Information: = 2 Years Light Commercial warranty
The following features can be found in the range of BH Fitness treadmills:
A bit of background information on BH Fitness Treadmills.
With a traditional treadmill the platforms where you put your feet at the side of the running deck are an integral part of the deck, with the belt running in between. The treadmills with A-Wings have a bolt-on extension - this means that the running belt can be much wider (filling some of the area where the platforms would be). Because of the shape of the A-Wings, the treadmill frame can be the same size as other treadmills. The effect is that you get a wide running area that can live within a compact frame.
AC Drive System is the Leading Trend
Technology that's just too good to refuse!
• Low Audible Motor Noise
• Strong Torque Performance
• Reliable & Consistent Speed Control
• Lower ElectroMagnetic Interference
• Maintenance Free Drive Motor
• Speed-Burst Free Circuit Design
• Environmentally Friendly Technology
Perhaps the most important advancement in treadmill design in the last 20 years has been the continuous improvement and adaptation of the treadmill's cushioning system. BH Fitness is committed to the improvement and performance of our fitness products. To that end we have added new enhancements to our already superior treadmill cushioning system. We have added PCS - (Progressive Cushioning System) to folding treadmills. The new PCS system allows for greater movement and shock absorption at lower elevations and limits movement and absorption at higher elevation levels. This new system provides a natural, comfortable feeling for the user while accommodating the body's need for additional cushioning on flat surfaces.
The effortless plug and go system.
Any treadmill with Plug & Run exclusive technology is delivered completely assembled - just plug it in & start running!
BH FITNESS has always understood the relevance of using energy resources in a responsible and wise manner. BH Fitness has incorporated into the motors of our treadmills, Green Power Technology allowing a more efficient use of energy - the same high performance with less energy and resource consumption (15% energy consumption saving).
| | | | |
| --- | --- | --- | --- |
| The AC5000 Commercial Treadmill offers a start speed of 0.3 mph. Speed is adjustable in 0.1 mph increments. The SCIFIT AC5000 treadmill features 12 mph top speed with elevation of 0 to 15% incline, adjustable in .5 increments | | | |