Sci-MX Pyro-MX Leanburn Trade


Getting lean and ripped does not take quite as much willpower anymore - Sci-MX Pyro-MX Leanburn hits fat from all angles.
Getting lean and ripped does not take quite as much willpower anymore - Sci-MX Pyro-MX Leanburn hits fat from all angles.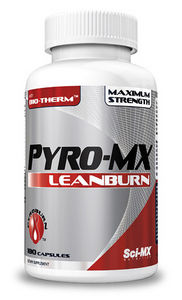 Extra 689 points when your order this item!
Sci-MX Pyro-MX Leanburn Trade

Buy Sci-MX Pyro-MX Leanburn (180 Capsules) at genuine trade price from our wholesale store. No account required. If you only want to place a small order (Less than £200) you can add this item and let the checkout change it over later on.
GymRatZ Pyro-MX Leanburn Review:
So what's Sci-MX Pyro-MX Leanburn got going for it? Well, for starters it has a all the typical ingredients you'd expect to find in a high quality fat burner and in real doses rather than just "label claim" doses. Pyro-MX Leanburn was recently re-formulated and although we've not tried this latest version the previous Xedra-cut XT as it was known was tried by Matt and boy did it make him sweat! Some of the lesser ingredients from the older version have been removed and the more concentrated doses of the stronger ingredients replace them (putting it in simple terms) so a smaller serving size to achieve the same if not better results than before.
We can always tell when Matt is using Pyro-MX Leanburn as part of his competetion preperation as he gets pretty wired on the full dose and often starts sweating. There is nothing that is banned from use by the natural bodybuilding organisations so it's one of the few really effective fat burners that he can safely use.
Sci-MX are also marketing Pyro-MX LeanBurn alongside the stimulant free version called Sci-MX Pyro-MX SF (Stimulant Free) with Leanburn being a great appetite suppressant, and helping to ramp up your metabolism while Pyro-MX SF can be taken later in the day or evening without causing sleeplessness, so a great combination of fat burners to take together.
Perhaps adding a shake or two of Sci-MX Diet Shake into the daily nutrition and exercise plan would also be a great addition.
Recommended Pyro-MX Leanburn Use:
Take 2 to 3 Pyro-MX Leanburn capsules with 250 ml of water 3 times daily, 30-40 minutes before breakfast or morning workout, 30-40 minutes before lunch and 30-40 minutes before mid-afternoon meal or workout. Do not use after 4 o'clock in the afternoon. Use Pyro-MX Leanburn™ every day for up to 6 weeks, and then discontinue for 2 weeks before continuing again. For best results, combine with a calorie controlled, low-carb/high-protein/high-fibre diet and a sensible exercise programme.
NB: Read 'Important Information notice' before use.
Use Sci-MX Pyro-MX Leanburn for:
• Anyone seeking rapid fat loss
• Anyone wanting to improve muscle definition by losing body fat
• Anyone following a calorie controlled diet aimed at weight loss
• Weight-lifters, strength athletes and bodybuilders wanting to get lean whilst maintaining muscle
• Power and endurance athletes wishing to improve sport performance by losing fat
Full Sci-MX Pyro-MX Leanburn Ingredients:

Guarana, gelatine (capsule), l-tyrosine, white kidney bean extract, citrus aurantium, microcrystalline cellulose(filler), yerba maté, acetyl-l-carnitine, white willow bark, cammelia sinensis, capsicum annuum, magnesium stearate(flow agent), calcium-d-pantothenate, Bio-therm™, chromium citrate
Active Ingredients Per 3 Pyro-MX Leanburn Capsule Serving:

• Vitamin B5, 6mg
• Acetyl-L-Carnitine, 100mg
• Phaseolus Vulgaris / White Kidney Bean Extract, 200mg
• Citrus Aurantium / Bitter Orange Peel, 192mg
• Salix Alba / White Willow Bark, 100mg
• Cammelia Sinensis / Green Tea Extract, 80mg
• Ilex Paraguariensis / Yerba Maté, 100mg
• L-Tyrosine, 200mg
• Chromium, 62.4mcg
• Paullinia Cupana / Guarana, 800mg
• Capsicum Annuum / Cayenne Pepper, 60mg
• Piper Nigrum / Black Pepper Extract (Bio-Therm™), 4mg
Sci-MX Pyro-MX Lean burn fat burner details as follows:
Sci-MX has taken advantage of new scientific findings and EU legislation which has allowed our product development team to formulate Sci-MX Pyro-MX Leanburn fat burner.

The origins of thermogenic fat burners go back to what was known as an 'ECA stack' which was very effective in burning fat, but contained chemical ingredients such as ephedrine, which are now banned. Scientists then turned to herbal alternatives which are far healthier as they naturally contain balancing agents that eliminate the 'roller-coaster' ups and downs that chemicals cause.
*Important Information
If you suffer from any medical condition, please consult your health care practitioner before use. Do not use if pregnant or lactating. If anxiety or dizziness occurs, lower dose or discontinue use. Using Sci-MX Pyro-MX Leanburn requires an adequate state of hydration so drink at least 8-10 large glasses of water per day. After 6 weeks of continual use, stop completely for 2 weeks before resuming. Do not take more than a total of 9 capsules per day as this will not increase effectiveness and may cause adverse side effects. For best results, combine with a calorie controlled, low-fat/high-fibre diet, and a sensible exercise programme.
Sci-MX Pyro-MX Leanburner sold 180 capsules per pot.
Copyright of

GymRatZ

Commercial Gym Equipment Fitness & Bodybuilding-Supplements 1999-2020