Reflex Testo Fusion Trade


Get Link

Add to Favourites

Contact us about this item

Request a callback about this item

Email a friend about this item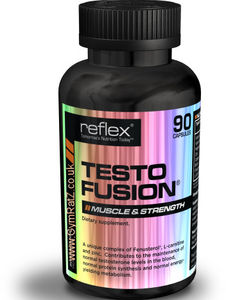 Extra 1 points when your order this item!
Reflex Testo Fusion Trade
By Pete Walker
So here we have a fresh product from Reflex that would fall into the "testosterone booster" family of bodybuilding supplements.
Testo Fusion offers a combination of essential supplements known and used for many years for their hormone boosting properties (Zinc and Magnesium) etc. so you could consider Testo Fusion as ZMA and then some. Not much more to say about it other than write up the ingredients list and copy the bit of text from Reflexes description.
Testo Fusion Nutritional Profile
% RDA 6 Capsules
Vitamin D3 600 30ug
Vitamin B6 714 10mg
Magnesium 401 50mg
Zinc 300 30mg
Copper 100 10mg
Boron NA 10mg
Fenugreek Sterols NA 750mg
L-Carnitine NA 2,000mg
Testo Fusion Ingredients:
In a 2 piece Gelatin (Bovine Gelatin*, Black Iron Oxide) Capsule:
L-Carnitine L-Tartrate, Magnesium Citrate, Fenusterols® Fenugreek Sterols (50% Steroidal Saponins extracted from the seeds of Trigonella Foenum Graecum), Zinc Mono-L-Methionine Sulphate, Sodium Borate, Magnesium Stearate, Microcrystalline Cellulose, Silicon Dioxide, Cholecalciferol, Pyridoxine Hydrochloride, Copper L-Aspartate.
Contributes to the maintenance of normal testosterone levels in the blood
Contributes to normal protein synthesis
Contributes to normal metabolism

High quality supplements containing unique Fenusterol complex
Reflex Testo Fusion contains a unique complex of fenusterol, l-carnitine and zinc which helps to contribute to maintenance of normal testosterone levels in the blood, normal protein synthesis and normal energy yielding metabolism.
| | | | |
| --- | --- | --- | --- |
| Sci-MX 17-T Somatocri-MX testosterone booster supplement stack is the replacement for the original 17-Testo Methox. Claimed to be even stronger than before !! Read our FULL review HERE then buy price ! | | | |